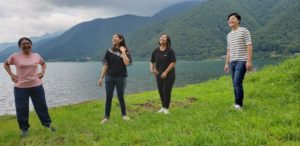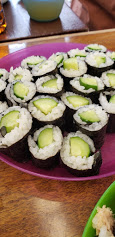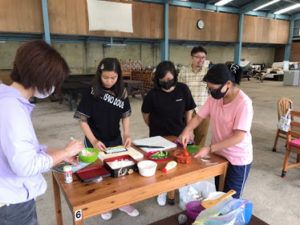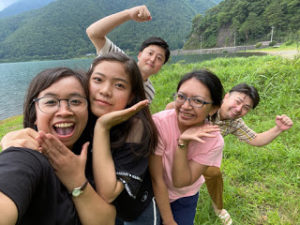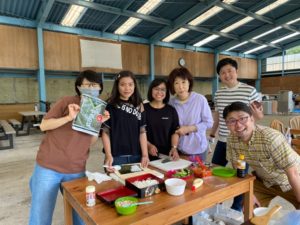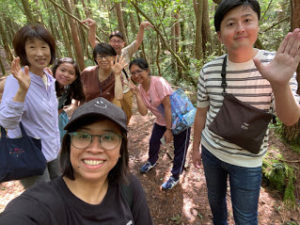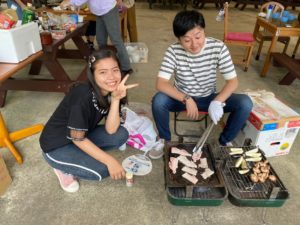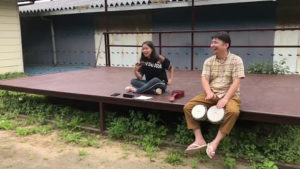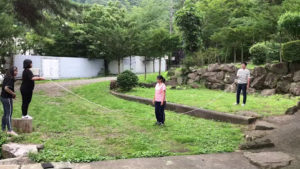 私たちの学校は、7月22日に西湖のほとりで、デイキャンプを行いました。
Watashitachi no gakkoo wa 7 gatu 22 nichi ni saiko no hotori de deikyanpu o okonaimashita
Our school had a day camp  on July 22 near the lake of Saiko.
お寿司を作ったり、バーベキューしたり、食後は湖畔の散歩や縄跳び、バドミントン、ステージで新入生がウクレレをひきながら日本の歌を歌ってくれました。
Osushi o tukuttari baabekyuu shitari, syokugo wa kohan no sanpo ya nawatobi  batominton suteeji de shinnyuusee ga ukurere  o hikinagara  nihon no uta o utatte kuremashita.
We cooked sushi and barbecue,and  after eating, took a walk along the lakeside, jumped the rope, played badminton.After that the new student entered in April sang a Japanese beautiful song with ukulele on the stage.
帰りには、富士山の樹海を散歩し、新鮮な空気を一杯吸いました。
Kaeri ni wa fujisan no jukai o sannposhi shinsenna kuuki o ippai suimashita
On our way home, we took a walk on  the sea of trees in Mount Fuji. We breathed in fresh air a lot.
笑顔いっぱいの一日でした。 
Egao  ippai no ichinichi deshita
It was a day full of smiles.
ふじやま国際学院
FUJIYAMA  KOKUSAI GAKUIN 
Fujiyama Japanese Language School
.