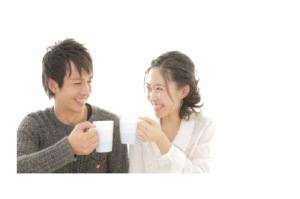 日本人は、よく本音と建前を使い分けていると言われる。
Nihonjin wa, yoku hon'ne to tatemae o tsukaiwakete iru to iwareru.
It is said that Japanese people often use HON'NE and TATEMAE.
本音は、本当の気持ちのこと、建前は、いろいろ考えたたうえで発する表向きの言葉。
Hon'ne wa hontou no kimochi no koto, tatemae wa, iroiro kangaeta ue de hassuru omotemuki no kotoba.
HON'NE are true feelings, and TATEMAE are Superficial words to talk after thinking a lot.
「家に遊びにきて」と言ったら、「ええ、ぜひ」。
Ie ni asobini kite to ittara, ee zehi.
When you say "Come to my house", "Sure."
「一緒に映画に行こう」と誘ったら、笑顔で 「また今度ね」。
Issyo ni eiga ni ikou to sasottara egao de matakondo ne'.
"Let's go to a movie," "Next time." with smile
それは建前で、本音は「行きたくない」のかもしれない。
Sore wa tatemae de, hon'ne wa `ikitakunai' no kamoshirenai.
It may be TATEMAE, and HON'NE might be "(s)he doesn't want to come".
相手の性格や距離間を正しく判断しないと、わからない。
Aite no seikaku ya kyori-kan o tadashiku handan shinai to wakaranai.
We have to know one's personality and sense of mental distance to find his or her Hon'ne.
日本には「うそも方便」という諺がある。
Nihon ni wa uso mo hooben to iu kotowaza ga aru.
In Japan, there is a proverb "USO MO HOOBEN".
うそも時には必要だという意味だ。
Uso mo tokini wa hitsuyooda to iu imida.
It means that lies are sometimes necessary.
相手を傷つけたくない、いい関係を保ちたいから建前を使う。
Aite o kizutsuketakunai, ii kankei o tamochitai kara tatemae o tsukau.
We don't want to hurt others, We want to keep a good relationship, so People use TATEMAE.
もしあなたがはっきり相手の気持ちを知りたかったら、「それは本音ですか?建前ですか?」ときいてみては。
Moshi anata ga, hakkiri aite no kimochi o shiritakattara, sore wa hon'ne desu ka? tatemaedesu ka?'
to kīite mite wa?
If you want to clearly feel the other person's feelings, Please try to ask "Sore wa HON'NE desu ka TATEMAE desu ka?"
ふじやま国際学院
FUJIYAMA KOKUSAI GAKUIN
Fujiyama Japanese Language School