日本の豪雪地帯では、昔からかまくら(雪で作った小屋)を作ります。
Nihon no gousetsu chitai de wa, mukashi kara KAMAKURA (yuki de tsukutta koya) o tsukurimasu.
In heavy snowfall areas in Japan, KAMAKURA (huts made of snow) are made for a long time.
そこに、水神様を祭って、お参りします。
Soko ni, suijin-sama o matsutte, omairishimasu.
We make the altar of water god there and pray.
子どもたちは、そこでお餅を焼いて食べたりして遊びます。
Kodomo-tachi wa, sokode o mochi o yaite tabe tari shite asobimasu.
Children play there by baking and eating rice cakes.
おととい、学校のある町は大雪でした。
Ototoi, gakkou no aru machi wa ooyuki deshita.
The day before yesterday, the town with the school was heavy snow.
校長とかまくらを作ることにしました。
Kouchou to KAMAKURA o tsukuru koto ni shimashita.
The principal and I decided to make a snow hut.
校長は、山で作ったことがあるそうです。
Kōchō wa, yama de tsukutta koto ga aru sou desu.
The principal said, I've made it in the mountains.
私たちは、こんな感じを創造して作り始めました。                            
Watashitachiha, konna kanji o souzou shite tsukuri hajimemashita.
We wanted to make something like this and started.
できたら、近所の子供たちに入ってもらおうなんて話しながら。
Dekitara, kinjo no kodomo-tachi ni haitte moraou nante hanashinagara.
We were talking about going inside with the children in the neighbor after it was completed.
雪の中、ときどき休憩しながら、5時間近く作りました。
Yuki no naka, tokidoki kyuukei shinagara, 5-jikan chikaku tsukurimashita.
We made it in less than five hours with a few breaks in the snow.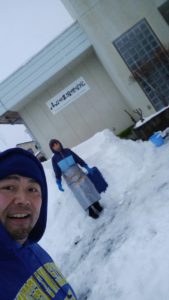 あとは、しっかり凍らせて明日屋根を作ろうということになりました。
Ato wa, shikkari koorasete ashita yane o tsukurou to iu koto ni narimashita.
After that, we decided to freeze it firmly and make a roof tomorrow.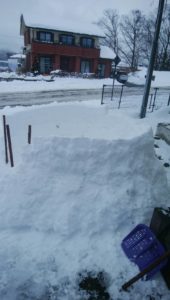 しかし、その後雪は雨に変わり、翌日は、晴天、気温もみるみる上昇し、溶けてしまいました。
Shikashi, sonogo yuki wa ame ni kawari, yokujitsu wa, seiten, kion mo mirumiru joushoushi, tokete shimai mashita.
However the snow turned into rain, and the next day, the weather cleared, the temperature rose and our snow hut melted.
私たちの夢も雪とともに消えました。
Watashitachi no yume mo yuki to tomoni kiemashita.
Our dreams have disappeared like snow.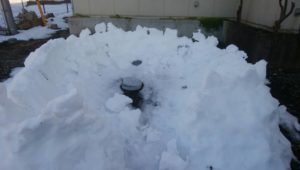 ふじやま国際学院
FUJIYAMA  KOKUSAI GAKUIN 
Fujiyama Japanese Language School