私は、今から12年ぐらい前に、ローソンのプレミアムロールケーキを食べて衝撃を受け た。
 Watashi wa, ima kara 12-nen gurai mae ni, rooson no puremiamuroorukeeki o tabete shoogeki o uketa.
I was shocked to eat Lawson's premium roll cake about 12 years ago.
ふんわりしたスポンジ、ミルク感のあるクリーム。
Funwari shita suponji, miruku-kan no aru kuriimu.   
It has soft spongeand cream with a feeling of milk.
今までのコンビニのデザートの印象は、安いけど普通。
Ima made no konbini no dezāto no inshō wa, yasuikedo futsū.
My impression of conventional convenience store desserts is cheap but not good or bad until then.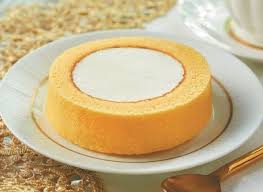 このロールケーキは、心まで癒される優しさに満ちたおいしさだった。
Kono roorukeeki wa, kokoro made iyasa reru yasashisa ni michita oishisa datta.
This roll cake was delicious like full of tenderness that was healed to my heart.
今では、各コンビニチェーンは流行を取り入れ、安価でしかもおいしいスイーツを続々と発表している。
Ima dewa, kaku konbinichēn wa ryūkō o toriire, ankade shikamo oishī suītsu o zokuzoku to happyoo shite iru.
Now, each convenience store chain is taking in the trend and releasing cheap and delicious sweets one after another.
私のおすすめランキング
Watashi no osusume ranking
My recommended ranking
第3位 dai san i / 3rd place
『宇治抹茶の和パフェ』 セブンイレブン ¥300
"Uji matcha no wa pafe"  Sebun irebun
"UJI MATCHA Japanese-style parfait"  Seven-Eleven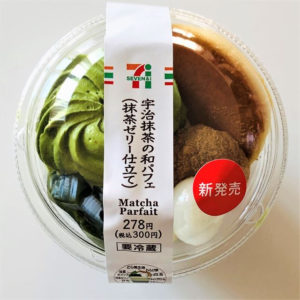 濃厚な抹茶ホイップクリームともちもちしっとりのどら焼き生地、つるんとした白玉。
Nookona matcha hoippukuriimu to mochi mochi shittori no dorayaki kiji, tsurun to shita shiratama.
It has rich whipped cream with powdered green tea,moist DORAYAKI dough and smooth rice flour dumpling.
量がちょうどいい。
Ryoo ga choodo ii.
The quantity is just right.
値段は少し高めですが、カフェに行かなくても、おいしいパフェが食べられます。
Nedan wa sukoshi takame desu ga, kafe ni ikanakute mo oishii pafe ga taberare masu.
The price is a bit high, but you can eat delicious parfait without going to a cafe.
第2位 dai ni  2nd place
 『スフレプリン』  ファミリーマート ¥278
 "Sufurepurin" famirīmāto
"Sofure Pudding"   FamilyMart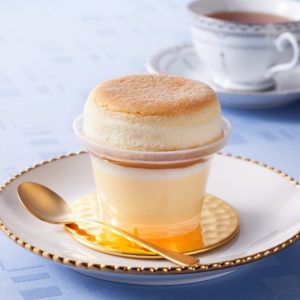 ふわふわ食感のスフレと、とろける食感のプリンが同時に楽しめて、気分は王侯貴族のティータイム。
Fuwafuwa shokkan no sufure to torokeru shokkan no purin ga doojini tanoshimete, kibun wa ookoo kizoku no tiitaimu.
You can enjoy the fluffy texture of souffle and the melting texture of pudding at the same time. You will feel like you are at the royal noble tea time.
第1位 dai ichi i   First place
『SWEETS×GODIVA ショコラロールケーキ』 ローソン  ¥395
"SWEETS×GODIVA shokorarōrukēki" rōson
"SWEETS x GODIVA chocolate roll cake" Lawson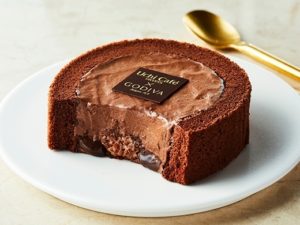 GODIVAとコラボした高級チョコを使ったクリームは、カカオ風味のスポンジと調和しておいしい。
Godiba to korabo shita kookyuu choko o tsukatta kuriimu wa, kakao fuumi no suponji to choowa shite oishii.
Cream using high-quality chocolate that collaborated with GODIVA is delicious in harmony with cacao-flavored sponge.
コンビニスイーツとしては高いが、がんばった日の自分へのご褒美に、私は買っている。
Konbini suiitsu to shite wa takai ga, ganbatta hi no jibun e no gohoobi ni watashi wa katte iru.
It's expensive at convenience store's sweets, but I buy it as my reward the day I do my best.
ふじやま国際学院
FUJIYAMA  KOKUSAI GAKUIN 
Fujiyama Japanese Language School