旅館のエスノグラフィー V0l.1
Ryokan no esunogurafii  V0l.1
Ryokan Ethnography V0l.1
皆さんの国には、ホテル以外の宿泊施設として、自分の国の伝統的な宿泊施設が残っていますか?
Minasan no kuni niwa,Hotel igai no syukuhaku-shisetsu to shite, jibun no kuni no dentootekina syukuhaku-shisetsu ga nokotte imasu ka?
In your country, do you still have traditional accommodation based on your own culture?
日本には旅館という宿泊施設があります。
Nihon niwa Ryokan to iu syukuhaku-shisetsu ga arimasu.
There are accommodations in Japan called "Ryokan".
旅館は、ハイアット、ヒルトン、インターコンチといった海外のチェーンホテルが日本に進出するずっと前から何世紀にもわたって存在しています。
Ryokan wa haiatto, hiruton, intaakonchi to itta kaigai no cheen hoteru ga nihon ni shinshutsu suru zutto mae kara nanseeki nimo watatte sonzai shite imasu.
Ryokans have existed for centuries long before overseas hotel franchises such as Hyatt, Hilton, and InterContinental entered Japan.
このタイプの宿泊施設は大きいものから小さいものまで色々あり、温泉や日本庭園がついているものもあり、日本の歴史や文化が写し出されています。
Kono taipu no syukuhaku-shisetsu wa ookii mono kara chiisai mono made iroiro ari, onsen ya Nihon-teien ga tsuite iru mono mo ari, nihon no rekishi ya buka ga utsusi dasarete imasu.
This type of accommodation ranges from large to small, some with hot springs and a Japanese garden, and reflects the history and culture of Japan.
大抵、駅前や商業施設の周辺といったビジネスマンにとって便利な土地ではなく、山や海といった自然が豊かな地や、社寺や旧街道沿いといった日本の文化が残る地にあることが多いです。
Taitee, ekimae ya shoogyoo-shisetsu to itta bijinesuman ni totte benrina tochi deha naku, yama ya umi to itta shizen ga yutakana chi ya, shaji ya kyu-kaidoo zoi to itta nihon no bunka ga nokoru chi ni aru koto ga ooi desu.
Usually, it is not located in a convenient land for businessmen such as in front of the station or around commercial facilities, but it is often located in a land rich in nature such as mountains and the sea, or a place where Japanese culture remains such as shrines and temples and old roads.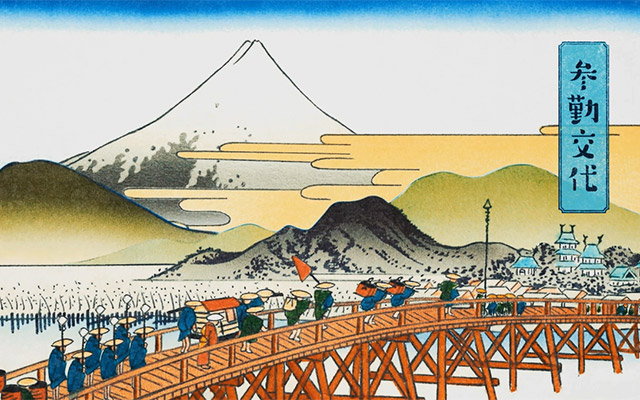 旅館には、浴衣や雪駄が用意され、中には就寝する部屋で夕食をいただけたり、露天風呂が利用できたりするところもあります。
Ryokan niwa, yukata ya seta ga yooi sare, naka niwa shuusin suru heya de yuushoku o itadaketari, roten-buro ga riyoo dekitari suru tokoro mo arimasu.
Ryokans are equipped with yukata and leather-soled sandals, and there are places where you can have dinner in your room or use an open-air bath.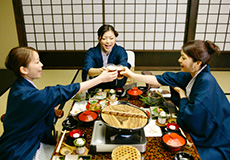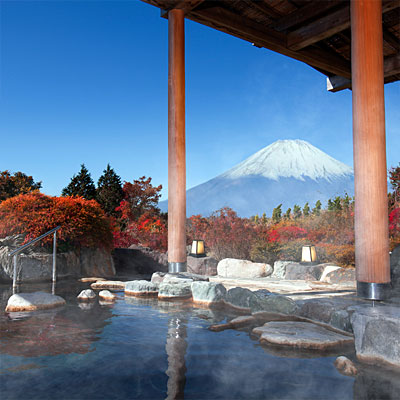 ホテルでは宿泊客で一杯になることを「満室」と言いますが、旅館では「満室」ではなく「満館」と言うそうです。
Hoteru dewa shukuhaku-kyaku de ippai ni naru to "manshitsu" to iimasu ga, Ryokan dewa "manshitsu"dewa naku "Mankan"to iu soo desu.
When a hotel is full of guests, it says "Man-shitsu(Full-room)", but at Ryokan it says "Man-Kan (Full-building)" instead of "Man-shitsu(Full-room)".
それは、部屋をお貸ししているのではなく、「館」全体をご利用いただいているという発想があるからだそうです。
Sore wa, heya o okashi shiteiru nodewa naku, "yakata"zentai o goriyoo itadaite iru to iu hasssoo ga aru kara da soo desu.
It seems that Ryokan staff think that the entire building is offered to guests rather than lending a room.
この記事では、海外で観光を学ぶ大学生が、日本でインターンシップをした際に、何を見て、何を体験し、何を感じたかをシリーズで書いていこうと思います。
Kono kiji dewa, kaigai de kankoo o manabu daigakusee ga, nihon de intaanshippu o sita sai ni, nani o mite, nani o taiken shite, nani o kanjita ka o siriizu de kaite ikoo to omoimasu.
In this article, I will write serially what foreign students who are studying tourism looked, experienced, felt while they had an internship in Japan.
海外に行くのも初めてで、文化も言葉も気候も違う環境で、初めて働くことは、大きなチャレンジだと思います。
Kaigai ni iku nomo hajimete de, bunka mo kotoba mo kikoo mo chigau kankyoo de, hajimete hataraku kotow a ookina charengi dato omoimasu.

Different cultures, different languages, different climate, the first time to go abroad for some people, and the first time to work. It is a big challenge.
日本の伝統的な宿泊施設ですから、面白いところも、慣れないところ、苦労したところもあったかもしれません。
Nihon no dentoo-tekina shukuhaku-shisetsu desu kara, omoshiroi tokoro mo, narenai tokoro, kuroo shita tokoro mo atta kamo shiremasen.
Since it is a traditional Japanese accommodation, there may have been interesting points, unfamiliar points, and difficult points for internship students.
またこのシリーズを通して、日本のいいところだけでなく、働き方や、働く姿勢もお伝えできればと思っています。
Mata kono shiriizu o tooshite, nihon no iitokoro dake denaku, hatarakikata ya hataraku shisee mo otsutae dekireba to omotte imasu.I also hope that this series will tell you not only about the good parts of Japan, but also how people work and why people work like this.
次回予定「ホテルと旅館の違い」 11月20日ごろ?
Jikai yotee"hoteru to ryokan no chigai" juuichi-gatsu hatsuka goro?
Next Time"Difference between Hotels and Ryokan" . Around 20th Nov.
どうぞお楽しみに!
Doozo otanoshimi ni!
Please look forward to it!
ふじやま国際学院
FUJIYAMA KOKUSAI GAKUIN
Fujiyama Japanese Language School