ふじやま国際学院の近くで、おいしいイタリアンのお店をみつけました。
Fuji yama kokusai gakuin no chikaku de, oishii itarian no omise o mitsukemashita.
We found a delicious Italian restaurant near 

Fujiyama Japanese Language School

.
まずは、2匹のワンちゃんが出迎えてくれます。
Mazu wa, nihiki no wanchan ga demukaete kuremasu.
First, two dogs will welcome you.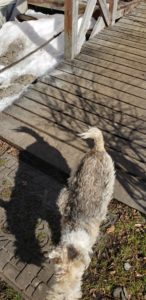 お店の中は、バイオリンやピアノなど楽器がたくさん。
Omise no naka wa, baiorin ya piano nado gakki ga takusan.
There are many instruments such as violins and pianos in the restaurant.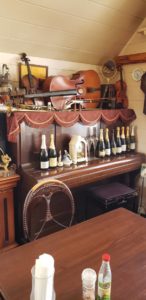 窓からは、湖や少し雪をかぶった山々。まきストーブもあって、まるで音楽家の友人の別荘にお邪魔したみたいな感じ。
Mado kara wa, mizuumi ya sukoshi yuki o kabutta yamayama. Maki sutoobu mo atte, marude ongakuka no yuujin no bessou ni ojama shita mitaina kanji.
From the window you can see Kawaguchiko lake and mountains with a little snow.
There's a firewood stove, and it's like visiting a musician's friend's villa.
(そんなすてきな友人はいませんが。。。)
(Son'na sutekina yūjin wa imasenga… )
(I don't have such a nice friend …)
マスターおすすめの生ハムの燻製のピザとトマトのぺペロンチーノを頂きました。
Masutaa osusume no namahamu no kunsei no piza to tomato no peperonchiino o itadaki mashita.
We had a smoked ham pizza and tomato peperoncino 
recommended by the master
.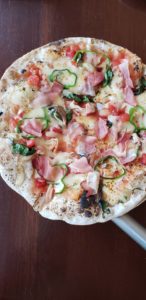 ピザの生地は薄めでしっとり、生ハムの燻製の香りとチーズが溶けあい、それぞれは個性的なのですが、ワンチームという感じ。
Piza no kiji wa usume de shittori, hahamu no kunsei no kaori to chiizu ga tokeai, sorezore wa kosei-tekinano desu ga, wanchiimu to iu kanji.
The pizza dough is thin and moist, and 

smoked ham flavor and cheese melt together, 
each is unique, but it feels like one team.
お腹も、心も満たされるお店です。 
Onaka mo, kokoro mo mitasareru omise desu.
The restaurant will fill your stomach and heart.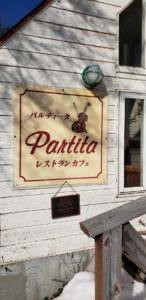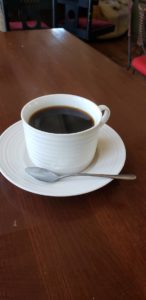 ふじやま国際学院
FUJIYAMA KOKUSAI GAKUIN
Fujiyama Japanese Language School