面接では何を見られるのか?
 Mensetsu de wa nani o mirareru no ka?
What will interviewers look at?
まず第一印象。
Mazu daiichiinshoo. 
First, it is important to pay attent to your first impression.
表情、身だしなみ、姿勢。
Hyoojoo, midashinami, shisei.
Facial expressions, grooming, posture.
清潔感、礼儀正しいのは当たり前。
seiketsukan, reigi tadashii no wa atarimae.
Of course, it's necessary to be clean and polite.
目が輝いていて、自然な笑顔があると印象がさらにアップ。
Me ga kagayaiteite, shizenna egao ga aru to inshoo ga sarani appu.
Your brilliant eyes and natural smile will make your impression even better.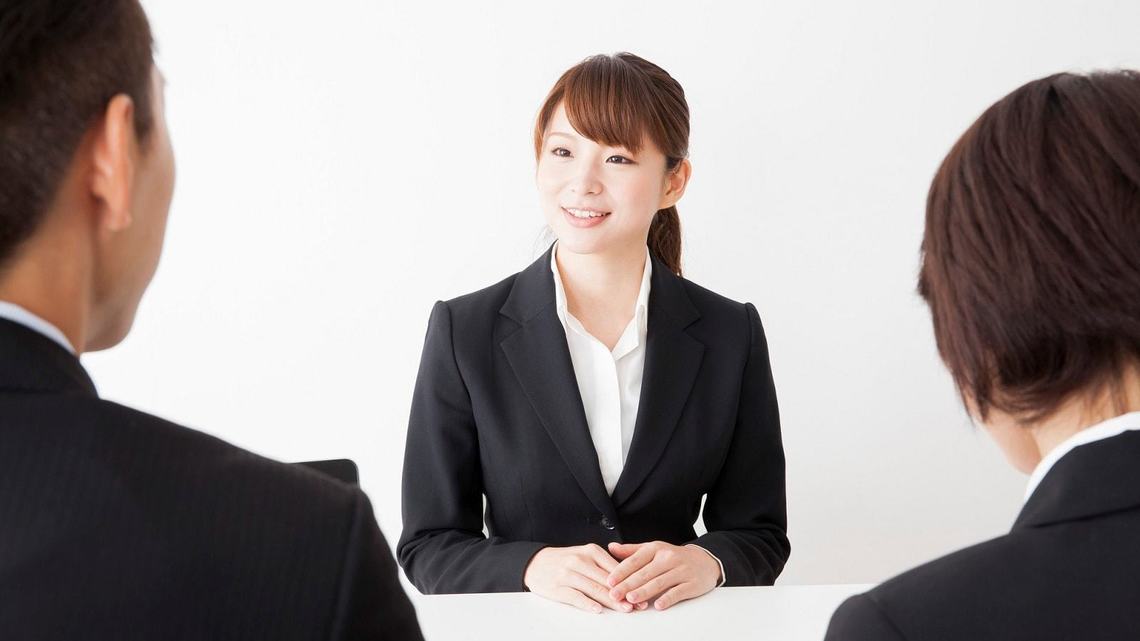 中には、面接前に、白目をさらに白くする目薬を使ったりする者もいるらしい。
Naka ni wa mensetsu mae ni, shirome o sarani shiroku suru megusuri o tsukattari suru mono mo iru rashii.
Some seem to use eye drops to make white eyes even whiter before the interview. 
就職の場合、面接官が知りたいことは、入社への意欲、適性の有無、人柄、 そして何より仕事で活かせるあなたの強み。
Shuushoku no baai, mensetsukan ga shiritai koto wa, nyuusha e no iyoku, tekisei no umu, hitogara, soshite naniyori shigoto de ikaseru anata no tsuyomi.
The interviewers want to know your willingness to join the company, your aptitude, personality, and most of all, your forte for work.
学んできたことや経験してきたことから、自分ならではの何か、ほかの人では代われない何かをPRできるようになろう。
Manande kita koto ya keiken shite kita koto kara, jibun narade wa no nanika, hoka no hito de wa kawarenai nanika o PR dekiru yoo ni narou.
Let's show something unique which you have learned through the experiences! It cannot be replaced by others.
ふじやま国際学院
FUJIYAMA  KOKUSAI GAKUIN 
Fujiyama Japanese Language School